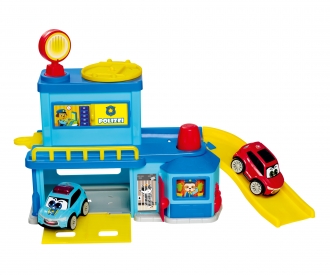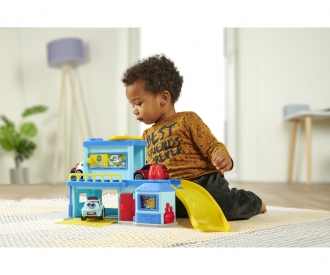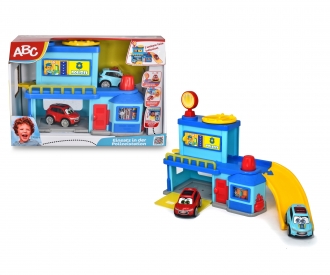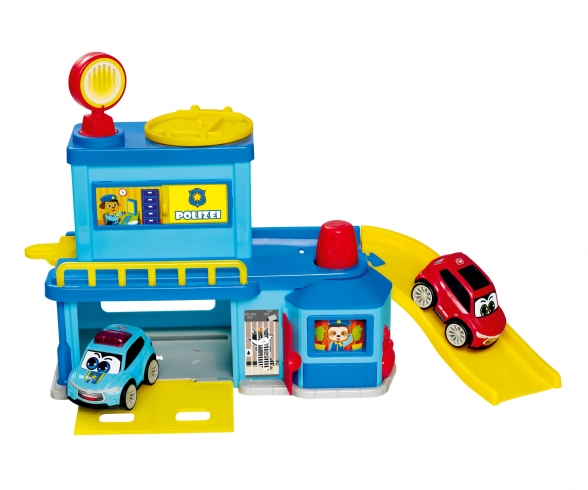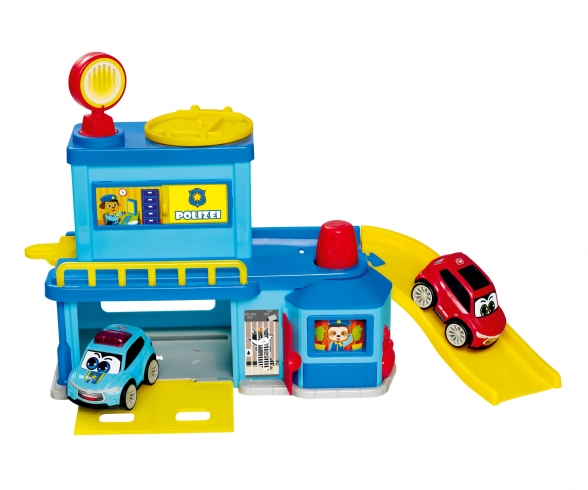 Quantity:
1
2
3
4
5
6
7
8
9
10
11
12
13
14
15
16
17
18
19
20
21
22
23
24
25
26
27
28
29
30
Delivery time 1-3 working days within Germany
ABC – Police station – with two police cars, for babies and young children aged 12 months and above, with ramp and functions

• Here come the police! This toy police station is the perfect toy for budding young police officers to immerse themselves in the world of law and order.
• Includes two toy cars – The set includes two BYD police cars, which feature rotating wheels and are ideally suited to small hands.
• Feature-packed design – The 30 cm tall station includes a rotating platform, a picture carousel, and opening doors and windows for locking up criminals.
• For babies and young children – Thanks to the saliva-resistant coating and absence of small parts, the station is suitable for children aged 12 months and above, and makes an ideal gift for your child's first birthday.
• About ABC – Our age-appropriate baby and children's toys are designed to support your little one during the early stages of their development.

ABC Police Station – Time for the next mission!
The police station is packed with fun features. It includes two small cars (BYD Song Pro EV, 9 cm), a criminal cell with a raccoon, and a guard to ensure that there is no mischief.

Time for the next mission!
The police station comes with a long ramp for launching the toy cars into action. The cars are modelled on a BYD vehicle and are perfect for engaging in police-themed role play.

The large station (49 x 17 x 30 cm) features a rooftop car park for parking the police cars until their next mission. There is also a cool rotating platform, as well as a picture carousel. In addition, the station has numerous doors and windows, all of which can be opened for an even more realistic experience. The vehicles can be parked in the garage after they return to the police station. The garage has an opening door on the front, as well as an open window at the rear.

For children aged 12 months and above
The police station's brightly coloured design is guaranteed to keep your little one entertained. Thanks to the large parts and rounded edges, it is also suitable for young children. The station helps to improve hand-eye coordination and allows your little one to explore the world through play.

Thanks to their saliva-resistant, colourfast coating and lack of small parts, both the station and the two vehicles are suitable for young children.

About ABC
Discover the world through play with ABC! Designed for babies and young children aged 0 to 36 months, ABC toys aim to stimulate curiosity and support the early stages of your child's development. The fun toys help children to meet early learning objectives, discover shapes and structures and train coordination skills. Whether as a Christmas, Easter or birthday gift or a surprise addition to your child's bedroom, our toys are guaranteed to provide hours of endless fun and support your child's early development.
Frequently bought together
Frequently bought together