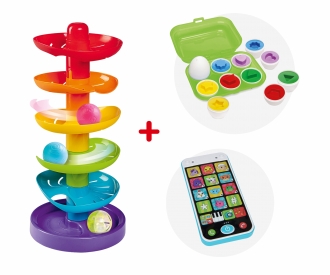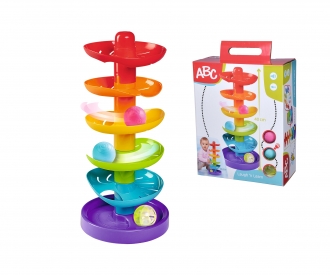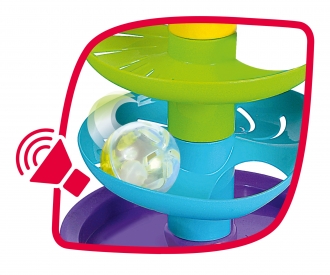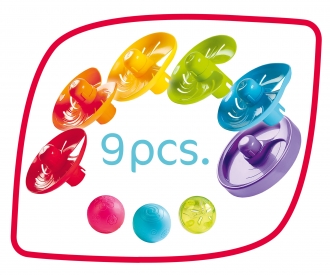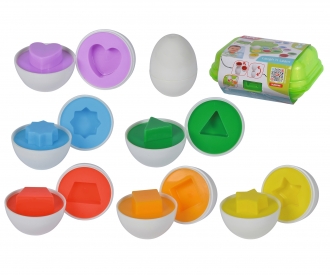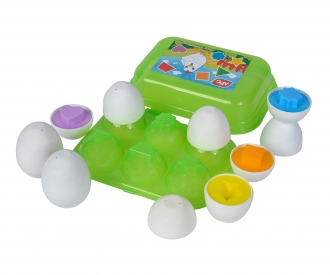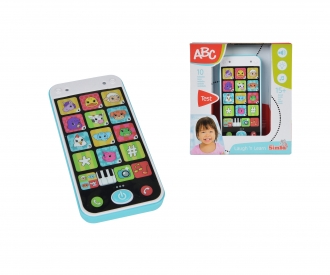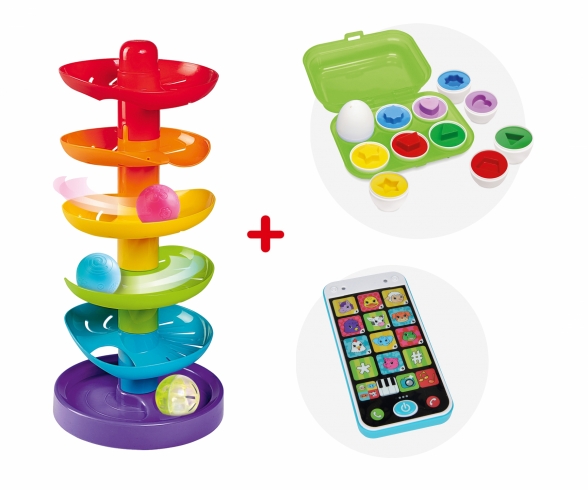 New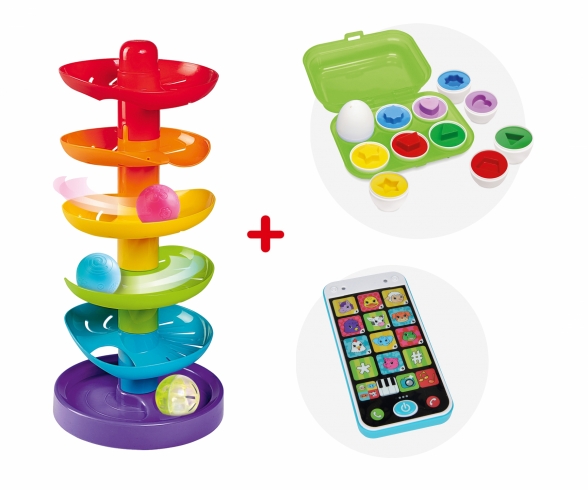 Quantity:
1
2
3
4
5
6
7
8
9
10
11
12
13
14
15
16
17
18
19
20
21
22
23
24
25
26
27
28
29
30
Delivery time 1-3 working days within Germany
Product bundles consisting of: ABC Rainbow Ball Drop Tower | ABC Egg Shapesorter | ABC Smart Phone
Article number: 104010053
Product: ABC Rainbow Ball Drop Tower

Discover the world through play with ABC! ABC awakens the curiosity of babies and toddlers from 0-36 months with age-appropriate products and supports their development in the first years of life. The first learning goals are achieved playfully, shapes and structures are discovered and coordination patterns are trained. The little ones have a lot of fun with the rainbow tower. The tower has five levels in the colours of the rainbow. The set also includes three balls. Two of them are coloured, the third is transparent and has a bell inside. The kids can place the balls on the top level and watch them roll down level by level. The transparent ball makes great noises while doing so. This way, the children can playfully understand and learn first connections. The ABC Rainbow Ball Tower has a height of 40cm and is suitable for children from 12 months.
Article number: 104010179
Product: ABC Egg Shapesorter
Eggs to open - the set contains 6 white plastic eggs, each of which has a colourful surface and shapes (heart, triangle, star, etc.) inside, which the children have to put together.
To discover and bring together - children can put the egg halves together correctly based on the colours or also shapes and train their hand-eye coordination in the process. The eggs are 7cm in size.
In the egg box - the six eggs find their place in a green egg box and can be stored and taken everywhere. Also handy for restaurant visits and travelling.
Age recommendation - the ABC egg shape sorters are suitable for children aged 12 months and over.
Simba - elephant-strong play fun! Children's enthusiasm is at the centre of product development. For boys and girls, young and old. Children should have fun and be encouraged.
Article number: 104010002
Product: ABC Smart Phone

Explore the world in a playful way with ABC! Age appropriate products from ABC encourage the natural curiosity of babies and small children from 0-36 months and support their early development. A playful approach ensures initial learning objectives are achieved, shapes and structures discovered and coordination patterns taught. First calls with the ABC smart phone! The mobile phone comes with a light effect and over 25 melodies, animal sounds, ring tones and key sounds. This toy offers a playful way to recognise animal sounds and numbers while developing fine motor and language skills. The ABC smart phone is suitable for children aged 12 months and over. 2 X 1.5V R03 battery is included.