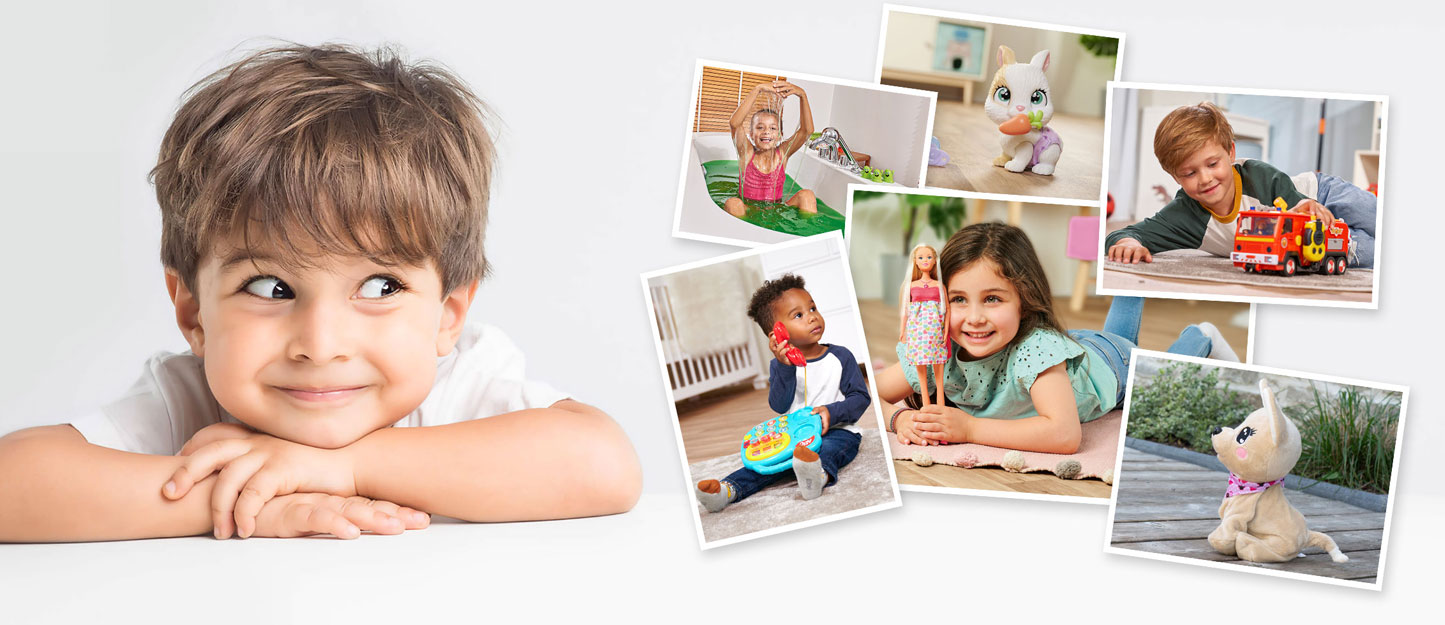 Discover the large and colourful world of Simba Toys!
Simba Toys combines a variety of brands covering a wide range of toys and games that delight and encourage children of every age.
Brand philosophy
Awesome fun and games!
The Simba brand name and its elephant logo have become synonymous with fun, variety and high quality.
The magical and trendy miniature and fashion dolls of the Steffi Love and Evi Love collection appeal to playful yet fashion conscious girls, while no one can resist the soft plush dogs of the Chi Chi Love series. Safiras collector figures allow girls to delve playfully into the fascinating world of the element dragons.
The ABC brand encourages the natural curiosity of babies and small children to discover the world around them from an early age. Brands such as Art & Fun and Color Me Mine allow children to explore their creative sides and My Music World helps develop an interest in music.
In the area of outdoor activities and sport, Simba offers an extensive and amazing range of beach and sand pit toys, water pistols, flying toys and bubble toys. A real highlight is the sublime throw and catch ball game Squap, the latest craze with kids and young people all over the world.
Simba Toys is synonymous with:
unrestricted fun
for kids of all ages, for boys and girls, for indoors and outdoors; toys, games and activity kits to delight and inspire fun play for children
quality and safety
product safety is Simba's top priority All Simba products are tested by TÜV and other accredited test laboratories
value for money
all the individual brands under the Simba banner offer outstanding value for money
internationality
at present Simba Toys exports products to over 100 countries
Show more
Show less
History
The Simba story
Fritz and Michael Sieber establish Simba Toys. From the very start the business has focussed on traditional toys such as dolls, board games, plush and wooden toys.
Launch of the first baby items.
Simba Toys opens an office in Hong Kong.
The first top seller: Sales of the "Bear Family" exceed one million; by 1987 the figure had reached 4.8 million.
The dress-up doll Steffi Love becomes firmly established on the market.
A yo-yo craze exceeds all expectations – this saw over 10 million units of this fascinating and challenging toy sold.
Evi Love, Steffi Love's little sister, complements the range.
Simba Toys receives an exclusive European licence for manufacturing and marketing the dress-up dolls "Disney Princess" from Walt Disney. Simba Baby is established as a separate segment.
The cuddly Chi Chi Love plush dogs capture the hearts of fashion conscious girls. Launch of the football collector figures MicroStars, consisting of the world's best-known players.
Squap, the fast-paced, action-packed game of skill, celebrates its launch and becomes a massive hit worldwide over the following years.
Fillys are the most-sold collector figures in Germany.
The creative Color Me Mine series is added to the portfolio and becomes one of the best-selling creative brands over the following years.
Safiras, the element dragons, immediately become the most-sold figures for collecting and trading in Germany.
The image shows a 1995 edition of the dress-up doll Steffi Love.
Show more
Show less
Design & Development
International designs
To ensure all the toys are tailored exactly to the needs of children, international product managers and designers are always busy enhancing the ranges and brands. Consequently, their work focuses on age appropriate activities with the clear intention of delighting children.
Production
Quality and safety
Thanks to its Hong Kong office, which opened back in 1984, Simba Toys has vast experience of working in close partnership with reliable suppliers from Asia. End-to-end manufacturing and finishing processes are carried out in accordance with relevant international standards. Prior to delivery, the quality and safety of each and every Simba Toys product is tested in-house and by an independent accredited laboratory in accordance with statutory regulations specified by international toy standards.