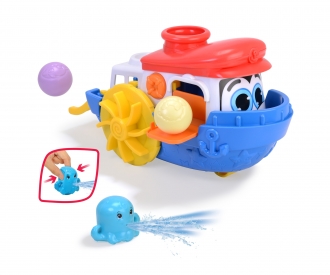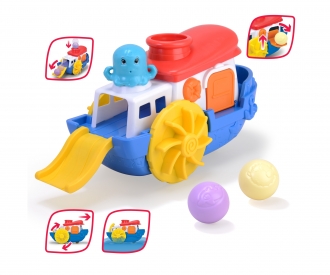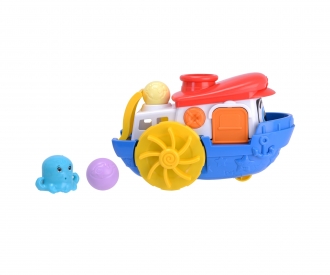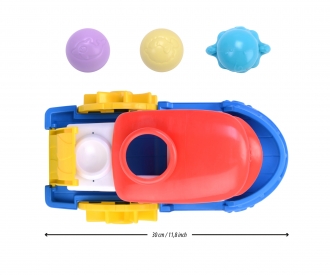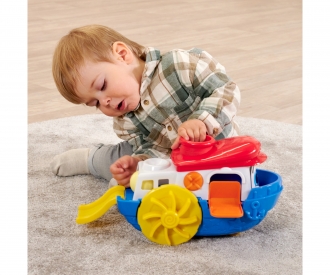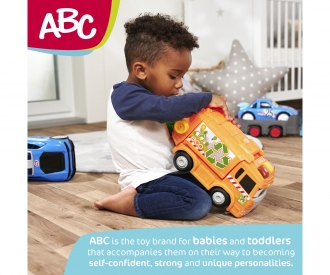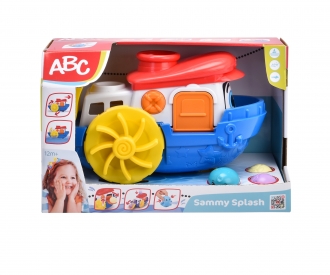 https://video.simba-dickie.com/embed/de/204115005/?autoplay=1&quality=720p
https://video.simba-dickie.com/embed/de/abc_roll_n_rail_11/?autoplay=1&quality=720p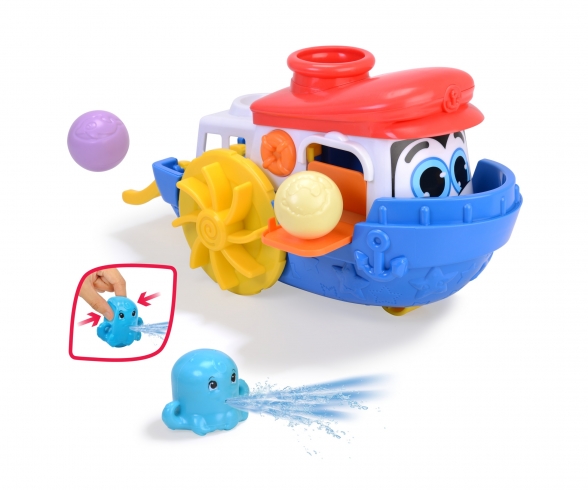 New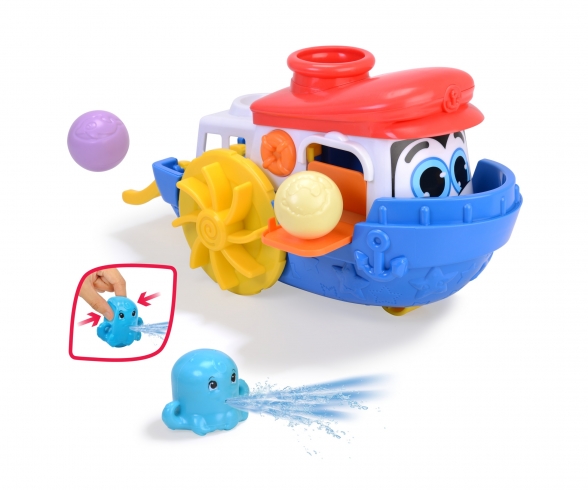 Quantity:
1
2
3
4
5
6
7
8
9
10
11
12
13
14
15
16
17
18
19
20
21
22
23
24
25
26
27
28
29
30
Delivery time 1-3 working days within Germany
ABC – Sammy Splash water toy (30 cm) – from 1 year, colorful boat with accessories and spray function, bath toy for babies and children aged 12 months and above
ABC Sammy Splash – the ultimate bathtime toy!
Thanks to the feature-packed design, you can make bath time into a fun and educational experience.
In addition to floating in water, it also features rotating wheels so that it can be used outside of the bathtub, as well as a ramp that makes clicking sounds to attract your child's attention and stimulate the senses.
The boat also comes with an octopus figure that can spray water, as well as two cute balls that can be thrown into the chimney and ejected via the built-in ramp – ideal for training fine motor skills.
In addition to a colorful and cute design, the ABC Sammy Splash also has rounded edges to prevent the risk of injury. At Dickie Toys, we make quality toys that you can depend on. As an internationally renowned and certified toy manufacturer, quality and safety are our top priorities.
• Toy boat with rotating wheels
• Floating design
• Squeezy octopus with water spray function
• 2 balls with animal motif (dolphin and blowfish)
• Length: 30 cm
About ABC
Discover the world through play with ABC! Designed for babies and young children aged 0 to 36 months, ABC toys aim to stimulate curiosity and support the early stages of your child's development. The fun toys help children to meet early learning objectives, discover shapes and structures and train coordination skills. Whether as a Christmas, Easter or birthday gift or a surprise addition to your child's bedroom, our toys are guaranteed to provide hours of endless fun and support your child's early development.

Warning! Not suitable for children under 3 years due to small parts. Choking hazard!
• Floating bathtub toy – Featuring a toy octopus figure that sprays water when squeezed, this colorful boat is guaranteed to keep your little one entertained at bath time!
• Vehicle with rotating wheels – In addition to floating in the bathtub or paddling pool, the boat can also be used out of the water.
• Trains fine motor skills and concentration – The 2 large balls with animal design can be dropped into the chimney and ejected into the water via the built-in ramp. There is also a side trap door that can be opened with a button to hide one of the balls.
• The perfect gift for babies aged 1 and above – Designed for children aged 12 months and above, the boat features a child-friendly design and is packed with entertaining features, such as a rear ramp that makes a clicking sound when moved.
• About ABC – Our age-appropriate baby and children's toys are designed to support your little one during the early stages of their development.